16 Delicious Food Trucks To Hire For Your Event
Are you looking for Food Trucks to hire for your event in Ireland? Look no further, Events Clinic is your one-stop-shop for Food Trucks. We have the largest network of quirky and high-quality vehicles available for hire, which means we can match you with the most suitable food truck for your event. We only work with the best in the industry to bring you the tastiest options around. We can cater to anything from birthdays, to corporate hire, festivals, and sampling activities. Below are just some of the options available – contact us for more information!
Venezuelan Street Food
Pork sandwiches with meat seasoned with fresh vegetables, olives and wine, then cold marinated for 12 hours and cooked for approximately 8 hours so that it becomes incredibly tender and juicy – that's the stuff! This out of the box option offers delicious food for all tastes, and will leave your guests, staff, or customers wanting more! They have a vast menu filled with incredible sandwiches, but they are also experts in finger foods and healthy smoothies.
Mexican Cuisine & Tacos
This amazing truck can cater to all food palates. They have options for those who are crazy about heat, but also for those who can't tolerate anything spicy. Meat lovers will find some great Taco options, but vegans will feel right at home with their options as well. To top it off, all of their soft corn tortillas are completely Gluten Free. One truck, great flavours, and something special for all of your guests.
Top Quality Barista Coffee & Treats
Ahh, what can we say about coffee? This magical drink that brings happiness to us all. Coffee is supposed to be reinvigorating, but also cozy and relaxing. You can bet Events Clinic has some magical coffee trucks for you! First, they are served for beautiful vintage vehicles, because the perfect coffee drinking experience needs the right aesthetic, of course. Second, a large menu of drinks to choose from, including single origin coffee available. And, third (and probably most important) our incredible staff of professionally trained baristas will present you and your guests with the best cuppa ever.
Italian Wood Fired Pizza
Are you looking for a great food option that will make everyone happy? Well, you can't go wrong with pizza. Our pizza partner has such an interesting story, he was so in love with traditional Neapolitan pizza that he booked a flight to Naples to learn from the source! He trained under a great Italian chef and learned it all from scratch. A few years later and he finally felt ready to open his own business. So, you can bet is a work of love, and you can taste the difference!
Gourmet Toasted Sandwiches
Sometimes a good Grilled Cheese Sandwich can be considered a work of art. That is what this Events Clinics partner does, amazing toasties that are anything but ordinary. The trick is to only use high-quality ingredients from artisan sourdough baked by the multi award winning Dublin institution, Bretzel Bakery, to Cheese sourced from the hills of West Cork – all ingredients used are of the highest possible quality. This combination helps transform the humble grilled cheese into a deluxe street food! 
The Best BBQ in Town
Few words in the English language bring me so much joy as BBQ. If you're the same, you can't miss out on our out of this world barbecue partner. This chef has over 15 years of experience both in Ireland and abroad, and was also the Head Tutor over at Cooks Academy Dublin up until mid 2020. In other words, he definitely knows what he is doing and you can taste it!
Pig on a Spit
Our BBQ truck is also very versatile. They will be able to offer traditional cuts, and delicious sandwiches, but one option is to ask for their ambitions Pig on a Spit. Slow roasted to perfection, the incredible flavours will amaze you and your guests.
Vegetarians & Vegans Unite
It's really important for Events Clinic to cater to all choices and lifestyles. That's why we partnered with a vast number of trucks that can offer vegetarian and vegan meals. From ice cream, cake, treats, sandwiches, and many others. Just let us know your dietary restrictions and we'll do our best to offer you an extensive menu.
Beer Wheelbarrow
How absolutely adorable is a Beer Wheelbarrow? Vintage, cute, and practical! Our drinks partner loves popping these around to brighten any event.
Ice Cream Van
An absolute classic! Fun day at the office? Kids birthday parties? Sweet treats at a festival? We got you!
Italian Gelato Trike
Ice cream, but fancier! For those summer days that ask for a nice dessert, but with that something extra.
Boutique Homemade Ice Lollies
Fresh fruit, organic milk, vegan options! This partner has the most special lollies out there! They provide a world of flavour and are so beautiful.
Delicious Crepes & Churros
Let me tell you, this is the best combination ever! Crepes that can be either savoury or sweet, and then a crispy, gooey, warm churro to top it off. The Crepe Wagon is an amazing choice to keep everyone smiling from ear to ear.
Horse Box Bar
How magical is this? Can you imagine telling your friends you had the best time ordering drinks from a Horse Box? The Crafty Mare operates this stunning vehicle, and they are ready to bring the party to you in style.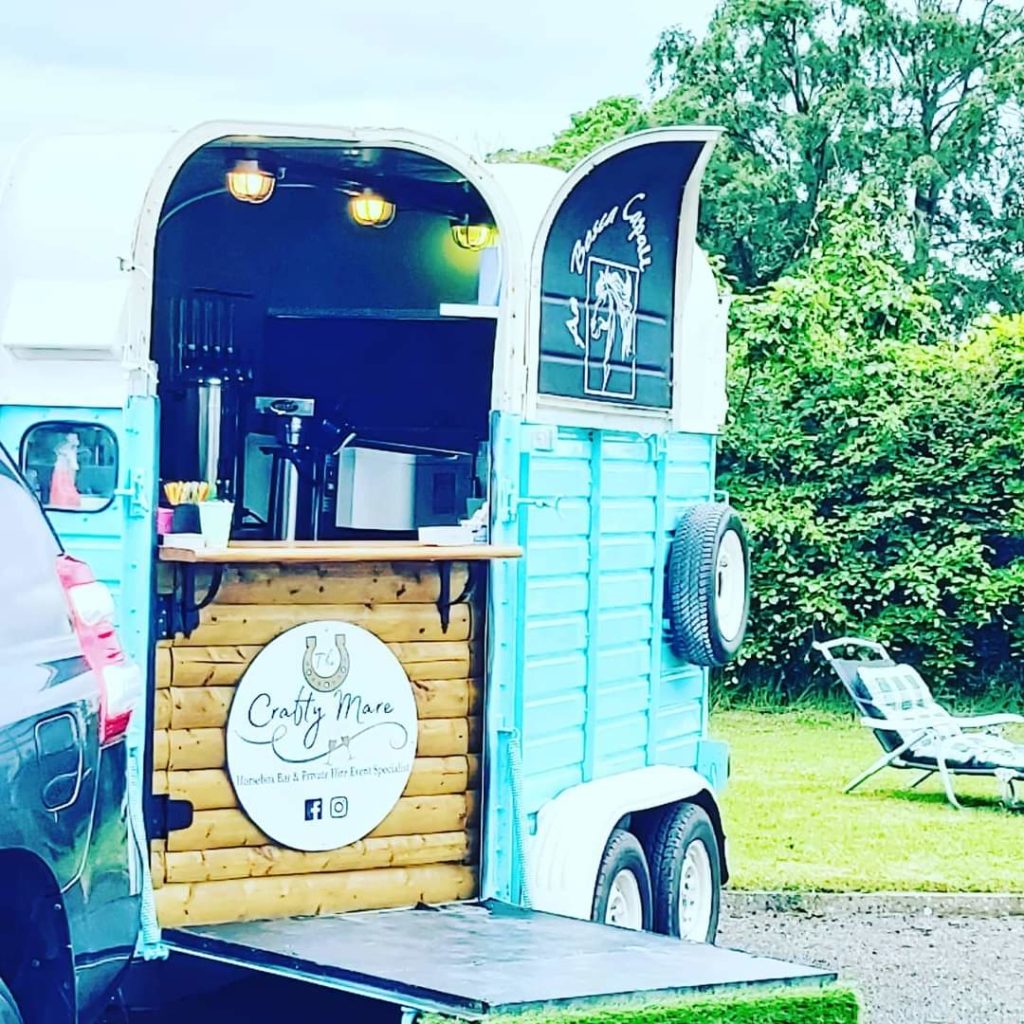 Prosecco & Wine Bar
And no event can be complete without a Prosecco & Wine Bar. This Events Clinic partner has the cutest vehicle in town. Trendy, fresh, and fun!
The Best Poutine
And the last, but certainly not least, we have the unique, the delicious, the stunning – Poutine. This exiting concoction might have Canadian routes, but they sure are famous for melting hearts everywhere. Lala Poutine is First Irish poutinerie! Freshly cut chips, artisan cheese curds locally made, and very tasty gluten free gravy. We love it already.
Comments are closed.